Graftobian Neutralising / Tattoo Cover Corrector Wheels 1 oz.

— Graftobian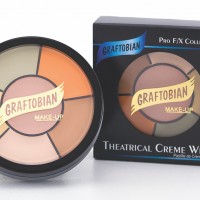 Frequently in beauty or film work, an actor has colour imperfections, blemishes, stains, tattoos, or other discolorations which require neutralising or concealing. These two wheels are designed to include the most often used shades for neutralising, highlighting and concealing used be professionals. These two wheels employ our heavier theatrical base and offer 10% more pigment than our HD crème correctors.
Light Corrector: Pink Highlight: counteracts grey or brown. Extra Highlight: A lighter highlighter. Yellow Highlight: Cancels deep red and purple. Muted Green: Removes redness. Orange Neutral: Neutralises blue. Soft Orange Natural: Softer blue neutraliser.
Dark Corrector: Burnt Orange: Neutralises blue. Red Neutraliser: Removes redness. Deep Red Neutraliser: Removes redness. Soft Orange Natural II: Blue neutraliser. Suntan Red: Counteracts grey. Deep Muted Green: Removes redness.
Share