Graftobian Super Palette - Inclusion 1.78 oz.

— Graftobian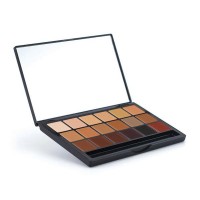 Inclusion: The multi cultural super foundation palette for people of colour.
Foundation shades are: Lady Fair, Sunrise Flush, Sunlit Linen, Buttermilk, Caramel, Butterscotch, Golden Sunset, Deep Xanthe, Olivia, Midnight Marigold, Soft Wisp, Pecan, Sienna, Shadow Dance, Hazelnut, Hidden Magic, Nightfall and Burnt Orange.
"Use Butterscotch and Burnt Orange as color correctors. To contour deeper skin-tones use Nightfall mixed with any color on the bottom row. Use Lady Fair as a highlight but also as a mixer to lighten colors throughout the palette." - DeShawn Hatcher
Share