Graftobian Magic Set Liquid - Large

— Graftobian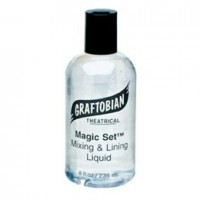 Magic Set is great to use as a lining liquid or brush-on product when mixed with cosmetic powdered glitter products, or simply as a setting agent that provides a smudge and water-resistant finish. It can also be used as a skin barrier product before a make-up application.
Magic Set works wonderfully as a wetting/thinning agent for all kinds of water-based make-up (including water-based airbrush make-up), and makes them more durable in wear. Great for any kind of cake make-up. Dries reasonably fast with great results!
Belongs in every make-up kit as a staple item!
TIP: Mix one part Graftobian Make-up Setting Spray, PPS-0021, to nine parts of Magic Set™ Mixing and Lining Liquid (9:1 ratio, or simply 10% Setting Spray to 90% Magic Set™ Mixing and Lining Liquid) to create a wonderful waterproof and durable mixing agent.
This formula is great to use for all kinds of body color applications that needs to stay on with durable and long wear, even for days if need be!
Share