Graftobian Master ProPaint Assortment #1 - Original Classic Colours

— Graftobian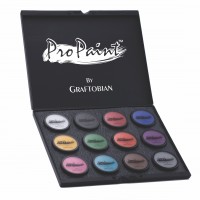 ProPaint is easily activated with a small amount of water. Moisten the sponge or brush, and work the surface of the cake into a rich spreadable cream. Apply to skin area. Once dry, your design will be virtually smudgeproof and ready to outshine the day. ProPaint colours blend seamlessly and give the artist full control over the vividness of colour. It does not need to be set with powder, but it can be sealed with Setting Spray for extra protection and more waterproof wear. Wash it off with just soap and water.
Includes the colours: White Swan, Raven Black, Crimson Red, Catalina Blue, Buttercup Yellow, Mantis Green, Orange Sunset, Wild Violet, Tickled Pink, Tropic Teal, Fuzzy Bear Brown and Graveyard Grey.
Share