Inspira Cosmetics Skin Accents Magic Glow Golden Tan Booster - 30ml

on sale — Inspira Cosmetics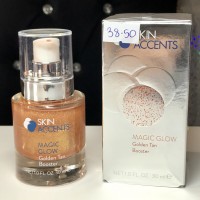 Magic Glow Golden Tan Booster is a highly concentrated skin care based on a blend of dry oils that makes the skin silky soft and gives a radiant complexion thanks to the gold-bronze coloured highlights.
Contains a high amount of Macadamia Nut Oil and a special peptide that boosts the natural tanning process when sun bathing. Used after sun it rebalances the lipd content of the skin, strengthens its barrier function. So the sun tanned skin is ideally cared for after the holidays. Penetrates quickly and is non greasy.
Directions for use: as a pre tan product start using it daily two weeks before your vacation. During the vacation use it daily in the evening to preserve the beautiful tan.
Share
Price
Was £38.50, now £20.00